OUR MISSION:




To invite all generations to follow Jesus on the bold, reckless adventure of grace!
---
WELCOME!
We have some wonderful things being offered for our women's ministries. We have a weekly bible study, a monthly gathering called The Well, and WomenTooGirls events throughout the year. We'd love for you to join us!
---
SPECIAL EVENT FOR PARENTS/GRANDPARENTS/EDUCATORS
Katey McPherson is an educator and mother of 4 exhausting yet beautiful daughters. Katey serves as a Gurian Institute certified master trainer, ECRA Group educational consultant, as well as adjunct faculty at Arizona State University, and she currently serves as a Cadre Supervisor of Student Practitioners at Rio Salado Community College.
We'll be providing childcare for parents who register their children in advance. Please join us!
---
NEW TUESDAY STUDY STARTING APRIL 30th
Finding I AM 
by Lysa TerKeurst. We'll be offering Tuesday mornings and Tuesday evenings again at 10:30am-noon and 6:30pm – 8pm from Tuesday, April 30th to Tuesday, June 4th.For more info contact Pastor Kathleen at
Kathleen@BoldRecklessGrace.org.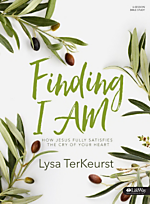 MONTHLY (Sept – March)
The Well
A monthly gathering time for Moms raising children, and/or women in the role of mom.
We strive to look at and learn about topics that can be challenging to us all as we try to keep our lives balanced in this super fast-paced world!
We are also looking for older women who would like to help with childcare or hospitality, so if you'd like more information about any of this, please contact Moms@BoldRecklessGrace.org
If you have any questions about any of these opportunities, please email Women@BoldRecklessGrace.org Signup sheets will be available this weekend at the information table in the lobby. Sharing our faith and connecting with each other is such an amazing gift that God has given us as women.